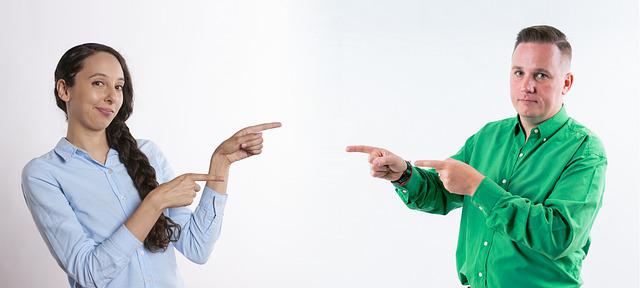 Blame is about cause and effect
When one is in pain or discomfort, it's useful to understand what caused it. That's how we can stop the cause and get back to normal. The body has lots of processes that identify a "cause" and puts it into action to get back into our normal state. If a bee stings us, we associate the bee with the sting and learn to avoid bees. We might even learn to associate bees with flowers and learn to be extra careful around flowers. This way of thinking, this paradigm, is cause and effect thinking. It can be very useful. But families are different.
Families are systems. Emotional systems.
There is a different way to think about families. That way is to think about a family as an emotional system. It's a system because all the family members act and react to each other and influence each with their actions. It's an emotional system because each family member's emotions influence each other family member. The feedback loop, the influencing, is constantly operating. It's what makes us a social species. For example, clients have spoken of "walking on eggshells" around the home. This is an example that the emotions of one or more individuals are influencing, and governing the behaviour of, the other family members.
Substance use is another example where the distress of one individual, the one using a substance, can lead to distress in other family members. The family members want the problem to go away. They want to find a cause to blame and then find a fix. So everyone can feel less distressed. And resolve the "problem". This is natural and cause and effect thinking does work in other areas. But systems are different.
Problems are actually UFOs – unwanted functional outcomes in systems
IF, a system has parts that influence each other, THEN how the system functions, and its functional outcomes, are just a result of how the parts are working together. It takes years, perhaps generations, to produce outcomes in biological systems. If one part of a system isn't functioning as we expected it to, then you look at how the parts are working together. If a tire's tread is worn low on the outside edge, it's not the tire's fault. It could be a fault in the tire. It could be the alignment or the route taken every day. Maybe it's the driver. If fact, ALL of these are contributing different amounts to the functioning of the car that produces the "problem" with the tire. The tire is just a symptom of the process of how the car functioning
Move beyond blame with systems thinking
In systems, it can take a long time to produce a level of functioning that surfaces a problem. For example, relationships don't really end with one event, nor does Substance use "just happen". It takes the process of two teams playing a game to produce an MVP at the end of a game, and it takes an entire sports industry to create the game itself. Thinking about something from a systems perspective leads one to ask questions like how, where, when, how often, with whom, and how much in order to understand the process resulting in an outcome. The opioid crisis is a system-level issue. What kinds of things have to be in place, and what is the process that ends up with thousands of opioid deaths? It is complex and doesn't have one quick fix. In fact, some quick fixes make things worse, especially over time.
I'm not to blame, but what is my part?
With a shift to systems thinking, family members can get curious about what part they might have played in any issue. They don't blame themselves, because no one person is at fault. The premise with systems, especially emotional systems, is that everyone contributed something. So each individual can get curious about the part they have played because that is the ONLY part they can really change.
Move beyond blame, not responsibility.
Because of the discomfort many "problems" cause, it can be very easy to want to blame something so it's not one's fault.   This often includes wanting a quick fix, in order to reduce one's own distress. But quick fixes can easily do more harm than good. And blaming just says "it's not my problem, I'm not at fault". It's not responsible behaviour to go for a quick fix just to soothe one's anxiety. This is where the saying "the road to hell is paved with good intentions" comes into play. It's certainly not effective behaviour to just go "it ain't me". A systems perspective holds that each family member is responsible for acting as maturely as they can. Each family member is responsible to others, but not for others.
It's hard to think of issues in terms of systems. But it can bring down the reactivity and increase the level of productive thinking.
I'm not to blame. You're not to blame. No one is to blame. But poor functioning does have consequences. We all have a part to play, apart we can address. We all have room to improve our own level of differentiation.
That's a paradigm-level shift in thinking.
Dave Galloway
dave.galloway@livingsystems.ca
To understand more about family systems, check out Family Ties That Bind
Read more about Bowen Theory here